Long-Legged Myotis: Myotis Volans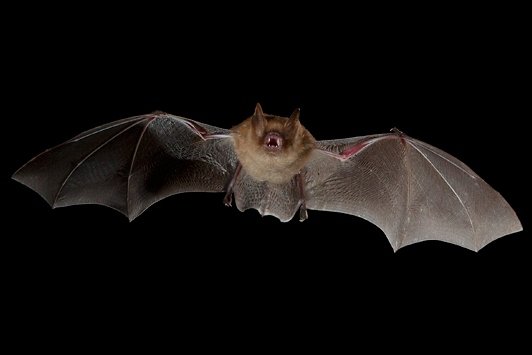 Description Of The Long-Legged Myotis
The long-legged myotis is a relatively large bat with a long tail and big feet. The fur color of this bat ranges from reddish-brown to entirely black. The underside fur extends from the wing membrane to the elbow/knee.
Tail-to-head and body ratio averaging 0.90-0.94; relatively long tibia; foot-to-tibia ratio near 0.40; full pelage and about 7 mm long at the back; braincase profile rising abruptly from the rostrum, giving a pug-nosed effect; ears short and rounded at the tip. 1Go To Source depts.ttu.edu -"LONG-LEGGED MYOTIS Myotis volans (H. Allen 1866)"
Learn More: United States Big Bats
Long-Legged Myotis Bat Average Size
Total Length: 93 mm
Weight: 5-9 g
Forearm Length: 39mm
Tail Length: 45 mm
Ear Length: 13mm
Foot Length: 7mm
Ecology Of The Long-Legged Myotis Species
The long-legged myotis emerge from the roost twice a day, once early and then during dusk. During this time the bats will forage around the tree canopies and over bodies of water.
While hunting, flight paths are direct and this bat will pursue prey over long distances. 2Go To Source fieldguide.mt.gov -"Long-legged Myotis – Myotis volans"
Long-Legged Myotis Typical Habitats
In forested areas, long-legged myotis bats can be found. Late-successional coniferous forests or other forested habitats with late-successional components are often associated with them.
This species requires large snags and hollow trees for day, night, and maternity roosts. They may also use bridges for night-roosting in forested habitats, caves, and mines for roosting and hibernating.
Typically, along riparian corridors and forest edges si where this bat will forage for food. Long-legged myotis are often observed near ponderosa pine, grand fir, and white fir in the East Cascades eco-region. 3Go To Source oregonconservationstrategy.org -"Long-legged Myotis"
Range Of Long-Legged Myotis In North America
The long-legged myotis occurs in coastal ranges from Mexico to Oregon, the Great Basin, Mojave desert, and southern California.
The species is absent in desert habitats (except for the Mojave Desert mountains). In woodland and forest habitats above 1200 m, this species is most prevalent. Forages are also used in chaparral, coastal scrub, shrub habitats of the Great Basin, and woodlands and forests in early successional stages. Research has shown that this species occurs in elevations from sea level to 3600 m.
Long-Legged Bat Diet
Along with termites, flies, beetles, lacewings, wasps, leafhoppers, true bugs, spiders, and other invertebrates, moths are the dominant prey of the long-legged myotis. Moths comprise 42-78% of the bat's diet.
The long-legged myotis emerge early in the evening from their daily roosts. The activity of foraging occurs throughout the night, but it is greatest during the first 3-4 hours. Along forest edges and cliff faces, inside forests, over the forest canopy, and near water, the prey is caught aerially.
Rapid direct flight characterizes this species. A study in Idaho showed the home ranges of males averaged 647 hectares, and reproductive females averaged 376 hectares. 4Go To Source eopugetsound.org -"Long-legged Myotis (Myotis volans)"
Behavior Of The Long-Legged Bat
There is little known about the habits of M. volans. These bats fly less erratically and more slowly than M. lucifugus and M. yumanensis. Both young and fully grown long-legged myotis leave the maternity roost in the fall, but the ensuing behavior is unknown.
While long-legged myotis are relatively tolerant of cold temperatures, the species does not have winter records. Hibernation occurs in caves during the winter, with males at hibernation sites outnumbering females. The population structure and dynamics of these bats are little known. 5Go To Source animaldiversity.org -"Myotis volans long-legged myotis"
Long-Legged Myotis Reproduction & Lifecycle
Mating happens in the fall, and fertile mothers give birth in June or July.
Females have been recorded lactating in July and August. The young long-legged myotis begin to fly in mid-July.
After a bat is a year old, it has the capacity to reproduce. The maximum recorded life expectancy is 21 years. 6Go To Source nrm.dfg.ca.gov -"California Wildlife Habitat Relationships System"
Threats To The Long-Legged Myotis Species
The largest threat known to long-legged myotis is the invasive fungal disease white-nosed syndrome (WNS). During hibernation, the disease affects bats, resulting in dehydration, emaciation, and eventual death.
South Dakota wildlife managers confirmed WNS there in 2018 in a long-legged myotis. Currently, however, there are no population impact estimates. 7Go To Source wildlife.utah.gov -"Long-legged Myotis (Myotis volans)"
Sources:
"A Species Account of the Long-Legged Myotis (Myotis Volans) | Mammals of Texas | Natural Science Research Laboratory | TTU." Texas Tech University Natural Science Laboratory, Texas Tech University, www.depts.ttu.edu/nsrl/mammals-of-texas-online-edition/Accounts_Chiroptera/Myotis_volans.php. Accessed 8 Jan. 2021.
Hutchinson, M. 2002. "Myotis volans" (On-line), Animal Diversity Web. Accessed January 08, 2021 at https://animaldiversity.org/accounts/Myotis_volans/
"Long-Legged Myotis – Oregon Conservation Strategy." The Oregon Conservation Strategy, oregonconservationstrategy.org/strategy-species/long-legged-myotis. Accessed 8 Jan. 2021.
Long-legged Myotis — Myotis volans. Montana Field Guide. Montana Natural Heritage Program and Montana Fish, Wildlife and Parks. Retrieved on January 8, 2021, from http://FieldGuide.mt.gov/speciesDetail.aspx?elcode=AMACC01110
Long-legged Lyotis. "Long-Legged Myotis (Myotis Volans)." Encyclopedia of Puget Sound, Puget Sound Institute, 7 May 2013, www.eopugetsound.org/articles/long-legged-myotis-myotis-volans.
"LONG-LEGGED MYOTIS Myotis Volans." California Department Of Fish And Wildlife, nrm.dfg.ca.gov/FileHandler.ashx?DocumentID=2327. Accessed 8 Jan. 2021.
"Long-Legged Myotis (Myotis Volans)." Utah Division Of Wildlife Resources, Utah Division of Wildlife Resources, wildlife.utah.gov/pdf/sensitive_species/mammals_longlegged_myotis_2020.pdf. Accessed 8 Jan. 2021.