Licensed and Humane Wildlife Removal in Galveston County Texas
WHY CHOOSE THE CRITTER SQUAD?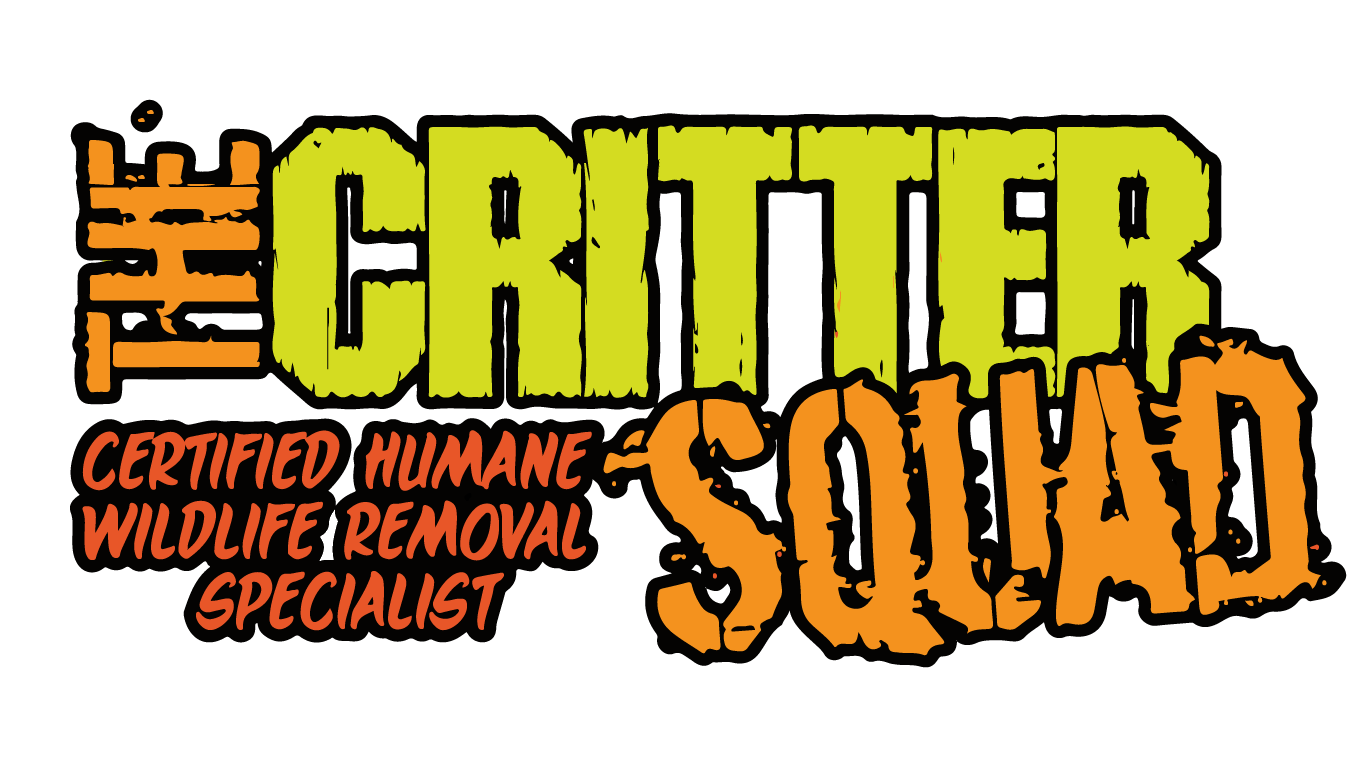 100% Military veteran owned and operated. Our military work ethic is the example for others to follow. We do it right the first time. We pride ourselves on dedication, integrity, and customer satisfaction.
The Critter Squad are a fully licensed and insured nuisance wildlife control company in Galveston County TX and we specialize in resolving all types of conflicts with wildlife using the latest and most humane methods available. Our specialty is humanely removing wildlife from residential and commercial locations including, not only the removal of the animal(s) but also repairing the damage they may have caused. We wildlife proof the structure so the animals do not return in the future, full attic clean out, restorations and much more. Regardless of the issue in Galveston County Texas, The Critter Squad can solve it! All of our work is 100% backed with a written GUARANTEE.
The Critter Squad are your local Galveston County animal removal specialists in humanely removing animals and wildlife from your home and property. PERMANENTLY! The Critter Squad guarantees that once the offending animal is removed, they will not be able to return due to our exclusion process that eliminates access back into your home. We do not use poison or killing traps, thus eliminating the possibility of injuring your domestic pets. We currently serve Houston and the surrounding areas and are experts in removing animals from attics, chimneys, yards and buildings. We are licensed and have more experience than your backyard animal trapper. When Animal Happen in Texas, we got your back!
Servicing the entire area of Galveston County County Texas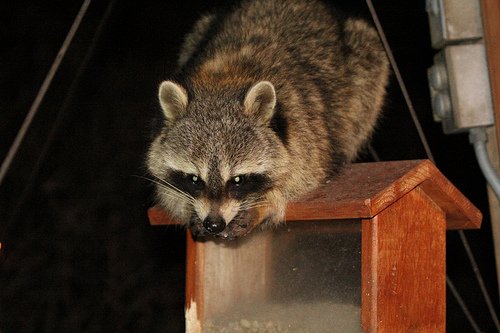 Some people prefer to place bat houses nearby but the likelihood of the displaced bats roosting there is limited. A wide variety of animals choose to live in the attics of buildings, from rats and mice, bats and pigeons, squirrels, opossums, and of course raccoons. A wide variety of animals choose to live in the attics of buildings, from rats and mice, bats and pigeons, squirrels, opossums, and of course raccoons. This can be one other clue to tell you where they are hiding. After you have been completely grossed out by the fact that a bat has made its way into your home, you are probably thinking to yourself that you have to get that thing out of your house right now! Always use a towel or some other kind of garment that you can wrap the bat in to get rid of it. Nine times out of ten, there's baby raccoons up there! If you trap and remove the mother, you will have a BIG PROBLEM on your hands, and you will likely cause further house damage, noise, suffering of cute little raccoons, and a terrible odor as the babies die and decompose. That said if you must do it yourself, you should not use meat-based baits, which are more likely to attract opossums, skunks, and of course, cats. While poison can be very effective in getting rid of any bats in your home that actually eat the poison (bats feed off live insects so nibbling on a block of poison is unlikely) it is one of the worst choices. Always use personal protection when cleaning up guano or urine. Juvenile males are distinguished from mature males by the shape and extensibility of their penis bones.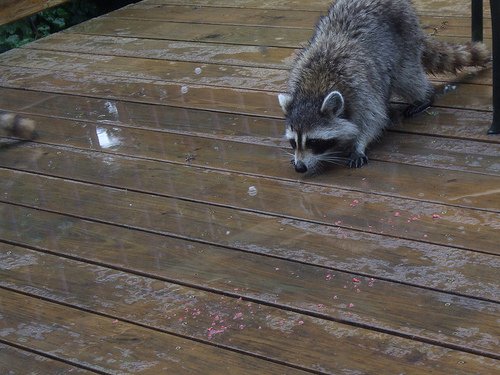 If there are bats in your home, then you will want get them out. The warranty does not cover maintenance oversights such as broken windows or storm damage, and does not apply if other animals chew holes into the structure that bats discover. Diet: The raccoon is an omnivorous and opportunistic eater, with its diet determined heavily by its environment. These stains are left by the oil on their skin and/or urine. HOW THEY GOT INSIDE: Bats can squeeze through extremely small gaps - 3/8 of an inch. Once it dries it can release toxic fungal spores into the air. I've been to plenty of homes at which homeowners have been wasting all their AC air, blowing it into the attic through torn ducts! I've also seen cases of electrical shortages from chewing on wires, and water damage from leaks caused in re-plumbing pipes that have been torn open in attics. And before you hire anyone, it's best to be educated on the subject, so browse this site and especially read the below advice. The most characteristic physical feature of the raccoon is the area of black fur around the eyes, which contrasts sharply with the surrounding white face coloring. Read About Colonizing Bats species info. I know that people want to try this method, because they ask me, and because I see many internet searches for the phrase raccoon poison.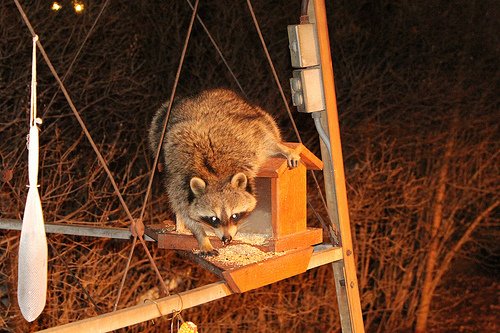 Raccoon disease - While the animals themselves, and your pets, can get canine distemper, the big concern is rabies. Rabies is the most serious raccoon disease. Then when you enter the attic, you scare the mother raccoon out with your presence (make noise or chase it with a snare pole) and it will run out of the attic, out its hole, and right into the trap! Or, if the mother raccoon stands its ground in the attic, you can physically capture it with a professional snare pole. The raccoon (Procyon lotor), sometimes spelled raccoon, also known as the common raccoon, North American raccoon, northern raccoon, and colloquially as coon, is a medium-sized mammal native to North America. We do not use any type of traps, as bats can die from stress while in traps and relocation efforts are not successful. In many areas, hunting and vehicular injury are the two most common causes of death Even so, your hunt may be unsuccessful. The kits stay in the den with their mother until they are between 8-10 weeks old, and will stay with their mother until they reach 13-14 months of age. Some of their diseases, including roundworm, trichinosis and rabies, also place people and pets at risk. Raccoon poop - I've devoted a whole web page to what does raccoon poop look like. The raccoon is the largest of the procyonidae family, having a body length of 40 to 70 cm (16 to 28 in) and a body weight of 5 to 26 kg (11 to 57 lb). They consume a tremendous number of night flying insects every night during the spring, summer, and fall seasons.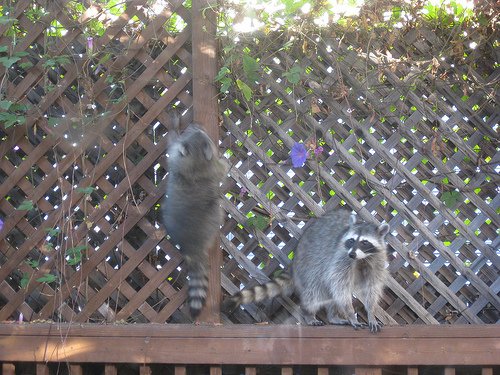 The male does not participate in the raising of the kits. One of the most simple and common ways to exclude is to use a flexible, mesh netting. These bats will form huge colonies, up to several million members in some cases. I really don't believe that uneducated people should attempt to interact with wildlife. If there's a raccoon family, consisting of a female and a litter of baby raccoons, you will very often hear the very distinct and unique crying and whining of the babies, surefire evidence of raccoon presence. That includes all of the current repellent and deterrent products sold. Accumulations of their droppings (guano) can cause odor and bug problems, which is the primary reason bats should be excluded from a structure occupied by people. At no time is 100% of the colony out at once. Often people think this swooping is the bat diving in trying to attack people. The real challenge is meticulous work, and not missing a single tiny area. I've seen them destroy all the ducts in an attic, and even tear apart cooling systems, vents and fans, and even wood beams.
---